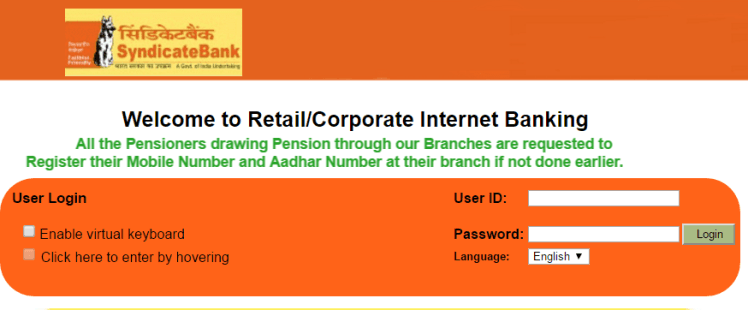 Syndicate Bank Net Banking Guide
If you are an account holder with syndicate bank then you can avail the benefits of syndicate net banking services for free. Syndicate Bank offers services like Mobile Banking – Net Banking – Aadhaar Seeding – SMS Banking and a lot more to all its customers. If you are a registered net banking user of syndicate bank, then you can log in to your account. All you need is the User ID/Customer ID and the pin to log in to your net banking account. These credentials are provided by the bank if you registered for syndicate net banking services while opening your account. To log in, you can follow the secure login button below.
Also, Check Bharat bank net banking updates 
If you face any issues in the login process then follow the step by step process given below.
Syndicate Bank Online Banking Login Process
If you are a registered customer for net banking then follow the simple process shown below:
Click on the secure login button and it will redirect you to the official login page of Syndicate Bank.
On this page, both retail and corporate internet banking users can log in. If you have savings or current account with syndicate bank, you can log in to your net banking account here only.
Just fill out the required details which are User ID and Password provided to you by the bank
Click on the login button and your details will be validated. Once validated you will be able to access your syndicate net banking account.
If you are a new account holder then go through the net banking activation process given below. You can activate your syndicate bank net banking services online within minutes. Once your net banking services are active then you can use the secure login button to log in to your account.
How to register for Syndicate Bank Internet Banking services
New account holders can activate their Syndicate bank net banking services by following the step by step process given below:
Visit the official login page of Syndicate bank net banking
On the right side, there will be an option for new user registration, click on it
A new tab will open where terms and conditions are mentioned. Just go through the terms and condition and then click on I agree.
On this new page you just need to validate one of the following details:

Current Account Number
Savings Account Number
Loan Account Number
Also, fill your registered email id and click on validate. Once the details get validated click on next.
On this new page, you need to fill the OTP which the bank has sent on your registered mobile number.
Once you submit the OTP a new page will open. On this page, you need to set your Customer ID and fill out some details like your Date of Birth and Your Debit/Credit card last transactions. After filling all these details just click on next.
On this page, you will be able to generate the password or Pin for your net banking account. Now your net banking services will be activated by the bank. It might take a few hours so be patient.
Syndicate Bank online users Benefits and Services
Just like all other banks, you can operate your banking activities just from your smartphone. Transfer money online with just a few taps or pay your bills. Activate/deactivate or even issue your Syndicate bank debit and credit card within minutes. You can also track your Loan if you have any with Syndicate Bank.
Frequently Asked Questions
Is customer ID and Account number same?
No, you can not log in to your internet banking services with your syndicate bank account number. Although you will need the account number to get your User ID. Follow the process given above to get your user id and password for net banking services.
How to reset my Online banking Password?
On the net banking login page click on the forget/reset password option on the right side. Provide the required details and follow the process to reset your password. Similarly, you can retrieve your User id.